Derrick Williams, Producer
Born and raised in Jersey City, New Jersey, Derrick has been inspired by the works of Alfred Hitchcock (Psycho), Debbie Allen (Different World), Gordon Parks (Shaft), Oliver Stone (JFK), Spike Lee (Do The Right Thing), F. Gary Gray (Straight Out of Compton), Melina Matsoukas, Hype Williams and many others in their ability to bring captivating images to the silver screen. Shortly after, Derrick headed to Philadelphia where he began studying undergraduate film at Temple University utilizing course work to develop skills in directing and producing. Upon completing graduation, Derrick went on to produce several music videos, commercials, documentaries and short films that have won various awards for television networks such as Showtime, BET J and HBO.
In the meantime, the wide range of styles that make up his body of work, though diverse in content, all bear one defining hallmark: the ability to change gears and uncover a fresh, creative vision for each new project he turns his attention to.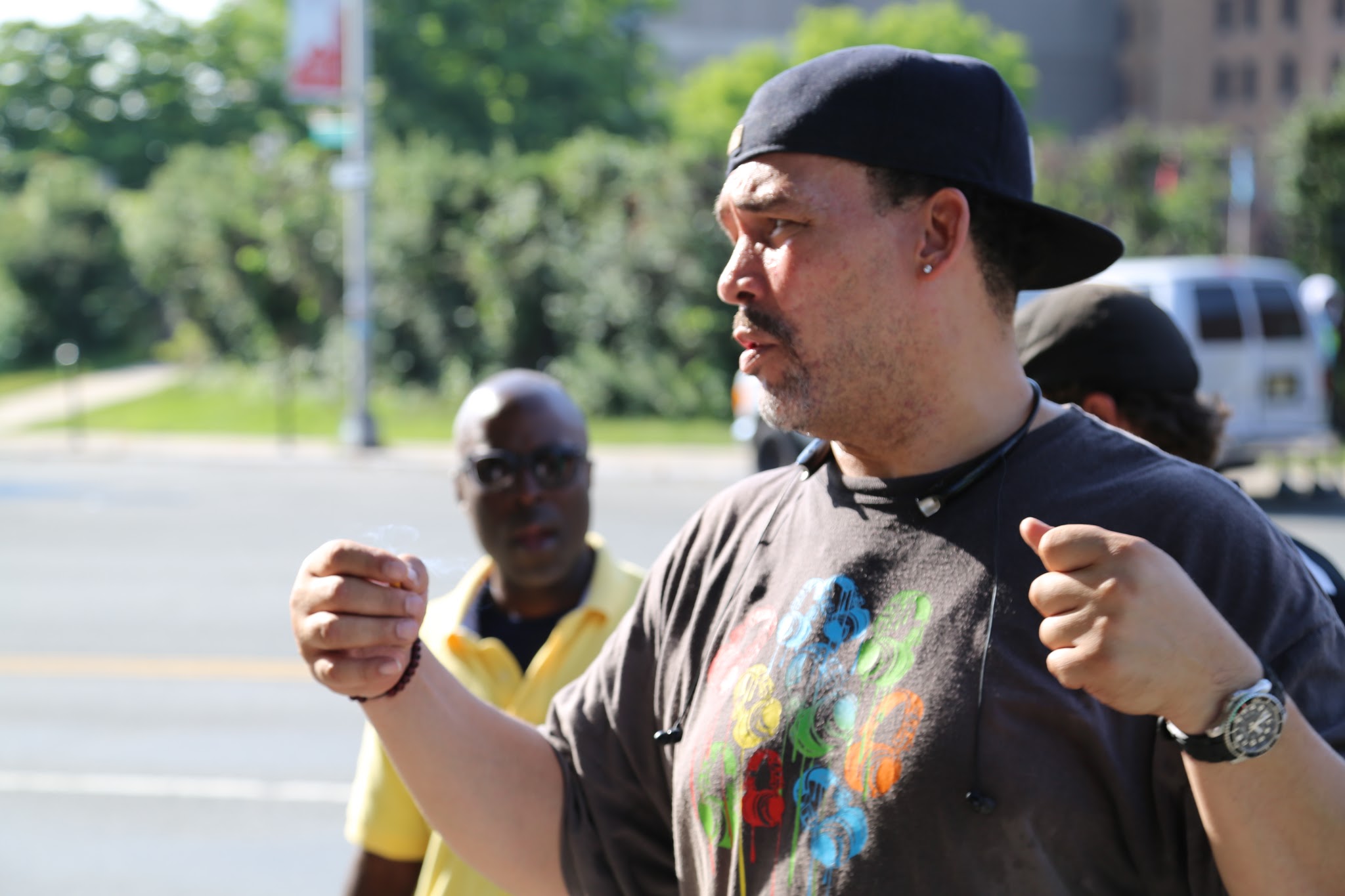 Charles "CJ" Jones, DP/Editor
Born and raised in Harlem, New York City, Charles is a Navy veteran of 4 1/2 years, and became an IT professional in civilian life. Needing to fulfill his creative ambitions, Charles became a successful music producer and recording studio owner, and in 2002, after 12 years, Charles switched lanes and embarked on a career in film and video production. After starting out as an editor, his skills at storytelling propelled him to learn the arts of cinematography, producing, and then directing. Today, Charles is the owner/operator of a "boutique" production company, SeaJay5ive Films (formerly Frontline Productions). His client list includes several independent production companies and performing artists as well as Black Entertainment Television (BET), Sy-Fy Channel, Kodak Film, Open Society Foundation, NYC Media, and The Outfit Media Group to name a few. The Director of Photography (DP) for two documentary features, Charles has also either directed/edited/DP'd several narrative shorts, a narrative feature, PSA's and music videos. Charles' films have screened and competed in several film festivals around the US and overseas, where he has won festival competition as a DP, an editor, and as a director. Two of Charles' recent film projects are currently airing on network television in the US; Two Days in Harlem and Art & Brutality. Autistic Like Me: A Fathers Perspective, is Charles' documentary feature, directing debut.
Carter "Roc" Mangan, Music Composer
Roc currently does music production work for film, television, artist and other media, including Showtime's "Ray Donovan", Oxygen Channel's "Bad Girls Club", "Bad Girls Need Love Too", MTV's "Real World" and "True Life", "Keeping Up With The Kardashians" on E! and countless other shows. Roc has worked on music for the feature film "Gimme Shelter" starring Vanessa Hudgens, Brendan Fraser, Rosario Dawson and James Earl Jones. He has also done pre/post production work with music producers Missy "Misdemeanor" Elliot, Mr. Wonder (Mary J. Blidge, Ciara,The Fugees), DJ Jayhood (Missy Elliot, Sharaya J) Hussein Fatal (Tupac's group "The Outlawz"), Young Buck (G-Unit), Taana Gardner, legendary jazz artist/drummer Norman Connors and many other artist.
Cecily Mihok-Trenka, Sound
From the top (clockwise): Charles "CJ" Jones (DP), Rich Smith (Key PA), LeRon Lee (Director), Brian Pengitore (1st AD), Stacy Gardner (Script Supervisor), Johnathon Proctor (1st AC), Derrick Williams (Producer), Adam Chinoy (Grip), Simeon Moore (Gaffer), Cytia Fontenette (2nd AC)